A Day of Advocacy in Sacramento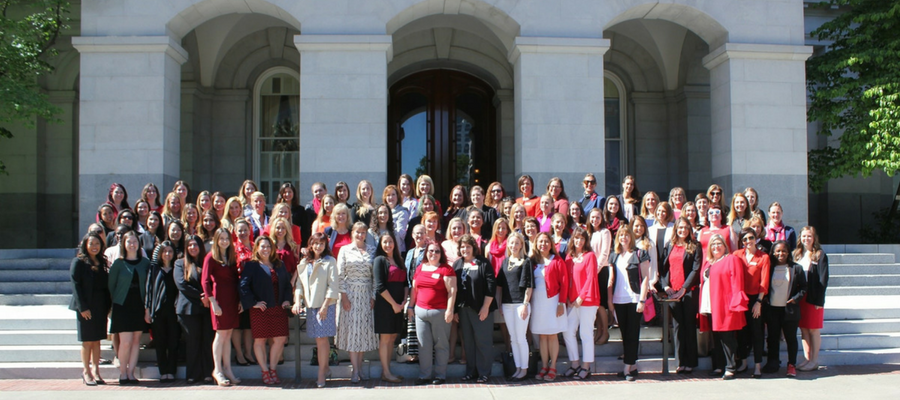 Over 100 members from Junior Leagues throughout California, including 11 members of the Junior League of Los Angeles (JLLA), traveled to Sacramento this May to advocate for important issues affecting the state, including for a bill aimed at protecting foster youth.
The Day at the Capitol event was organized by The Junior Leagues of California State Public Affairs Committee (CalSPAC),  a group comprised of delegates from 17 Junior Leagues who work to influence policy at the state level. The Junior Leagues members met with Assemblymembers Laura Friedman and Blanca E. Rubio, with whom they discussed bills related to education, family support, health, anti-human trafficking efforts and violence prevention. They specifically focused on AB 2323, a bill introduced by Rubio and supported by CalSPAC. The bill was written in response to an investigation conducted by the Office of Inspector General after reports of foster youth dying in California foster group homes. The OIG found that reports of abuse and neglect in these homes regularly took as long as a year to investigate and that the three-month guideline for closing investigations was mostly ignored. It also found that there was no framework for coordination between investigating agencies and authorities. AB 2323 establishes that framework and mandates that investigations close within 30 days.
Prior to the Day at the Capital, CalSPAC delegates spend time analyzing various proposed bills and presenting them to other CalSPAC delegates. The group votes on which bills they will advocate for among members of the state legislature.
CalSPAC organizes this event annually. Day at the Capitol is an amazing opportunity to advocate on behalf of JLLA's important issue areas and to understand the legislative process. I highly encourage JLLA members to join us in 2019!
–Erin Wolfson