A SUCCESSFULL SIX YEARS AT HOLA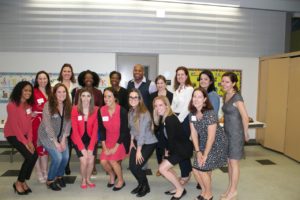 After six successful years, JLLA's project at Heart of Los Angeles (HOLA) came to an end in the spring of 2015.  When JLLA's project started at HOLA, the committee members conducted sessions on basic college preparatory topics such as components of a college application, different financial aid options, and compelling themes for a personal statement.  Over the years, as HOLA developed a more robust college preparatory department, the role of JLLA's project at HOLA evolved.  Sessions led by JLLA committee members began to focus on how to draft a meaningful thank you letter to your recommender, write a stand-out resume, and network effectively.  In its final year, the overarching goal of the project's curriculum was self-advocacy, both at college and in the job marketplace, which directly relates to JLLA's focus areas of self-esteem and empowerment.
While the curriculum has changed over time, one aspect of the JLLA/HOLA partnership has remained the same: the relationship shared by committee members and students.  Recently, an HOLA senior wrote, "The Junior League has inspired me to become a better student so that I can be ready for college through one of HOLA's Core Values: positive communication."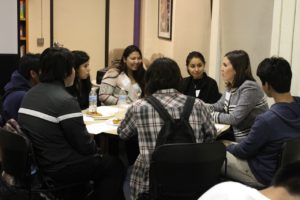 JLLA's last session at HOLA was a networking event with the seniors, HOLA board members and staff, and several of the over 80 JLLA project committee members from the past six years.  After an evening of networking and hors d'oeuvres, students received flash drives and certificates.  Additionally, JLLA presented executive director, Tony Brown, with a check to commemorate the end of the project.
We are so grateful to have worked with such an extraordinary community partner and met so many inspiring students.  HOLA embraced and improved the JLLA program and now has a full-time college counselor, an SAT course, and a comprehensive mentor program, whereby seniors are paired with mentors who help them navigate each step of the process.  Currently, 100% of the seniors who participate in HOLA's college preparatory program enroll in college.  While we will miss our time with HOLA students and staff, we know that HOLA will not only continue the work JLLA started at HOLA but will continue to expand and enhance it.  Thanks for six fantastic years!