ADVOCACY IN ACTION: JLLA'S 2017 CIVIC LEADERSHIP FORUM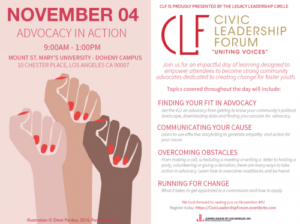 The Junior League of Los Angeles (JLLA) is devoted to fostering change and developing women as leaders in the Los Angeles community. The 2017 Civic Leadership Forum (CLF), took place on November 4th at Mount Saint Mary's University Doheny Campus and brought together JLLA members and leaders from community-based organizations for an impactful day of learning designed to empower attendees to make a difference.
Building off of the momentum of the Women's March, this year's CLF, which was themed, "Advocacy in Action," focused on teaching the tools necessary to be an effective advocate. Presenters used issues facing foster youth as examples to show how addressing the root cause of an issue through the support of key legislation can make a lasting impact. The intention was to share advocacy skills and tactics that can be used to support any issue attendees are passionate about. Attendees learned about the civic engagement process and got to experience issue-based advocacy work through workshops. Participants had the opportunity to attend breakout sessions designed to engage specific areas of interest regarding advocacy efforts at grassroots levels and beyond.
This year's CLF speakers reflected a commitment to women at all levels of leadership. They included:
Tiffany Boyd, a member of the National Foster Youth Institute's Leadership Corps (NFYI), a former foster youth, and current advocate for child welfare system reform
Sade Daniels, a former foster youth and award-winning spoken-word artist who has amassed over a decade of experience working for child welfare reform across California
Naama Haviv, Director of Development at MAZON: A Jewish Response to Hunger
Mona Pasquil, Appointments Secretary in the Office of Governor Edmund G. Brown Jr.
Laurie Rubiner, President and CEO of the Alliance for Children's Rights
Amy Wakeland, First Lady of Los Angeles
The following are a sample of the workshops offered:
Finding Your Fit in Advocacy
The 411 on advocacy: Learn about  your community's political landscape, how to download key data and find your passion for advocacy.
Communicating Your Cause
Learn to use effective storytelling to generate empathy and action.
Overcoming Obstacles
From making a call to scheduling a meeting to volunteering, there are many ways to transform advocacy into action.
Running for Change
What it takes to get appointed to a board or commission and how to apply.