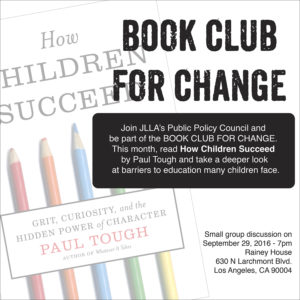 "I used to always think that if a school wasn't performing, that it was strictly because there was a bad principal, or there were bad teachers," she explained. "But the reality is that [at Fenger], we're a neighborhood school, so we're just a reflection of the community. And you can't expect to solve the problems of a school without taking into account what's happening in the community."
– Paul Tough, How Children Succeed
Last year our SPAC Delegates started the Book Club for Change in order for our members to more deeply discuss a book that brings one of our focus areas to light. This year they chose Paul Tough's How Children Succeed, which researches how a child's character correlates with his education. Tough shows the reader the links between childhood stress and life success, along with how parents do and do not prepare their children for adulthood, as well as how tohelp children in poverty.
Tough's ability to link education to children's characters and upbringings instead of the typical way people tend to think of education – the better the teacher and curriculum, the more successful the student – is why SPAC chose this book. JLLA's Senior SPAC delegate, Marianna Aroditis, said the group was looking for a book about the different theories and trends in education today. These topics also coincide with JLLA's Community Leadership Forum on December 2, 2016 where the theme is Psychology of the Streets: Why Education is the Answer
"What is good for JLLA members to note," Aroditis commented, "is that Tough says the qualities that our kids need to be taught (i.e. grit, self-control, zest, social intelligence, gratitude, optimism and curiosity) can be nurtured and facilitated in students. Even if a child has a difficult, traumatic childhoodwith no support system, studies have shown that with the right facilitation, the character to be successful can grow. That is very important in the communities that we serve because most of the students we come across are dealing with very stressful situations, whether it is poverty, foster care, abuse, or neglect."
Our members will be discussing the book on September 29th at 7pm at Rainey House. You can purchase the book on Amazon Smile HERE!