CLF | THE DISTURBING LINK BETWEEN FOSTER YOUTH & HUMAN TRAFFICKING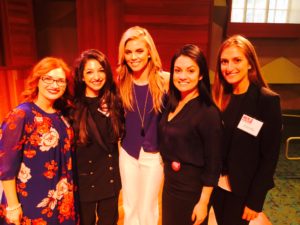 The Community Leadership Forum this year highlighted a hot topic in our community, the link between sex trafficking and foster youth.  Oftentimes, issues affecting and infiltrating our local communities are overlooked as problems of certain countries and demographics, but this is not the case.
The purpose of this event was to feature speakers that would 'bring this topic home' for the audience and raise awareness about this disturbing issue currently affecting foster youth in Los Angeles.
The panel of speakers included representatives from city and state levels, as well as a survivor and advocates of the cause to share a personal story about their experience.
Experts in the field, Maggy Krell, Deputy Attorney General, Statewide Human Trafficking Coordinator, Dana Harris, LAPD Detective Supervisor/Vice-Human Trafficking, and Carissa Phelps, Attorney, Author, Advocate and CEO of Runaway Girl, Inc. made up the panel and Taylor Dudley acted as the moderator.  Taylor is a member of the Junior League and an attorney for the Alliance for Children's Rights; she did an excellent job facilitating the Q&A segment and furthering the conversation.
The event took place on November 6th at the Downtown Central Library, and was sponsored by our own Leadership Legacy Circle (LLC).  With a strong 155 RSVP's to the event, it was full house!
The feedback from attendees was extremely positive.  Many mentioned that they gained a new perspective on the subject matter, were very engaged, and thoroughly enjoyed the speaker presentations.  An informational sheet was handed to each attendee that listed statistics about sex trafficking and foster youth.  Attendees felt it was a useful tool both during the event and beyond, when we call ourselves to take action to fight for the cause.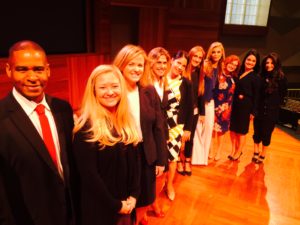 All involved felt the event was a huge success.  Bringing people together to raise awareness for an issue that is happening in our very own backyard, means more voices involved in the struggle to end human trafficking within our foster youth communities and beyond.
The speakers could not have been better, and having Carissa Phelps lead the speaker presentations with her heartfelt experience of overcoming such adversity left a major impact on all in attendance.
The next Community Leadership Event will take place in 2016, and will look to add a lunch component to provide attendees with the opportunity to network with one another following the presentations.  This way, the conversations sparked during the speaker presentations and follow up panel can continue on through lunch in hopes of building relationships and networks to further engage the issue at hand.
For further information or to get involved: