The Junior League of Los Angeles provides volunteers and funding to local non-profit agencies for the benefit and enrichment of the Los Angeles community and the development and education of JLLA volunteers. Nearly 600 league volunteers contribute more than 60,000 hours of volunteer work each year to the League's projects and programs. In addition to the volunteer service that League members contribute to our community, the JLLA has provided millions of dollars over the years to fund programs and agencies that improve the overall well-being of our community. Find out more about the JLLA's full-time projects by clicking below: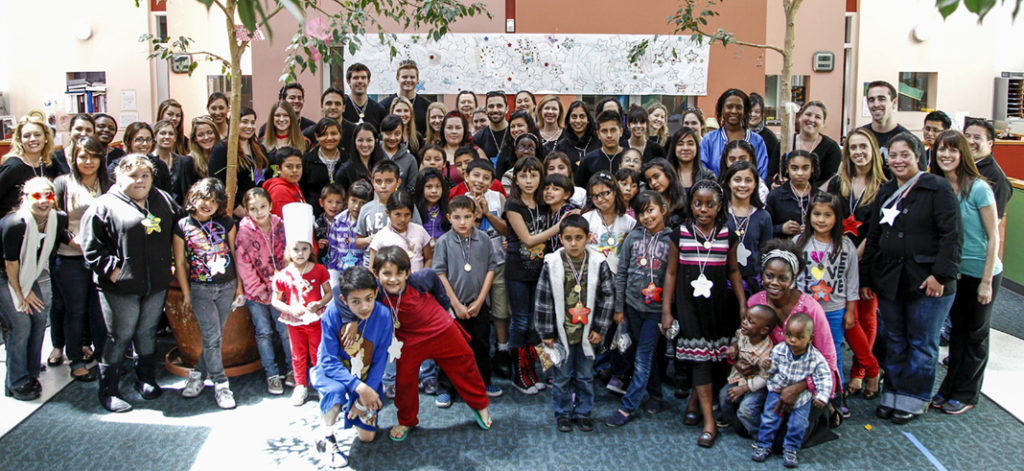 SELF-ESTEEM & EMPOWERMENT:
Alliance for Children's Rights is JLLA's newest project serving young women ages 14-21 that are currently in or were once in foster care. The project provides life skills classes for youth transitioning out of care. Topics are identified in partnership with the youth and have included interviewing skills, building a resume, money management, safe sex practices, stress management, and beauty/skincare 101. The project is a partnership with the Alliance for Children's Rights, a non-profit legal services and advocacy organization that works to protect the rights of impoverished, abused, and neglected children in LA County.
United Friends of the Children is a non-profit dedicated to the premise that foster youth deserve a successful adulthood. Through their Housing and Education programs, foster youth are provided the opportunity to graduate from high school, attend and graduate from college, get a job, find housing and have a support system that moves them gradually towards independence. JLLA's United Friends of the Children project is to build the self-esteem and empower high-school aged foster youth to successfully transition out of the foster youth system, while concurrently seeking higher education.  Monthly, JLLA members will facilitate workshops on topics like career development, self-advocacy, stress management, and financial literacy.
EDUCATIONAL OPPORTUNITIES:
Children's Bureau first started in 1904 as a volunteer group which successfully advocated for legislation to protect children.  In 2008, Children's Bureau opened its new Magnolia Place Family Center, which serves as a bases for the Magnolia Place Community Initiative. This Initiative represents a revolutionary solution to ending child abuse by focusing on preventing the deep social ills that plague many of our communities such as crime, school failure, alcohol/drug abuse, homelessness, unemployment, etc.
The JLLA "Building Literacy One Family at a Time" program aims to increase literacy among 5-8 year olds and their families. The project embraces the Magnolia Place Community Initiative family values by (1) providing a fun educational values-based curriculum, including reading and hands-on activities, to the children and their families and (2) incorporating the parents/families into the learning process. The program's goals are to improve the children's literacy skills, help them learn more about themselves and their families, and to increase reading confidence in a group, at school and at home. Last year we also provided a book shelf for the families filled with books in English and Spanish donated by our members.
Mar Vista Family Center (MVFC) was founded in 1977 as a preschool for low-income families that aimed to engage parents as partners in the education of their children. MVFC's long-term involvement with entire families has improved family functioning, decreased domestic violence and improved youths' academic successes and rates of attendance at institutes of higher education.
The Junior League of Los Angeles "Discover You" arts education program is directed towards pre-teen youths, aged 9-12. The arts education program is comprised of creative and/or performing arts workshops focused upon improving the creativity and self-confidence of pre-teens.
WOMEN EMPOWERMENT:
The People Concern, founded in 1987, is the only program on the Westside designed for homeless women suffering from long-term debilitating mental illness. The People Concern addresses the basic needs of mentally ill women facing homelessness and poverty by providing a safe and accepting environment where they can find dignity, support, and access to information and resources needed to stabilize their lives and move into permanent housing.
The People Concern and the Junior League of Los Angeles have partnered for a "Women Empowerment" program. The curriculum helps to inspire and motivate the women to succeed in their personal lives by teaching life skills and tools that foster confidence and inspire change.