FLASHBACK TO JLLA'S COMMUNITY LEADERSHIP FORUM!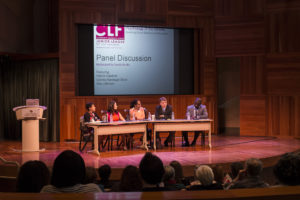 Homelessness, mental health and financial instability are just some of the immense barriers foster youth face in trying to obtain a quality education, an esteemed panel of guests concluded on December 2nd at the Junior League of Los Angeles' Community Leadership Forum held at the Downtown Central Library.
Every year, the Junior League of Los Angeles brings together members of the community to focus on a critical issue affecting Los Angeles County as part of its Community Leadership Forum presented by the Legacy Leadership Circle. This year's topic was Psychology of the Streets: Breaking Down Barriers To Education. Over 20,000 children in Los Angeles County are currently in foster care and their graduation rates are abysmal. According to the Alliance for Children's Rights, only 58% of foster youth in LA County graduate from high school and only 3% graduate from college. The purpose of the forum was to identify the problems foster youth face and identify solutions.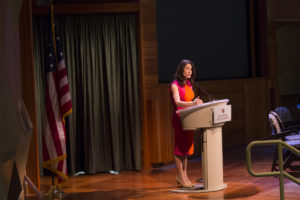 The forum featured keynote speaker Regina Calcaterra, Esq., an advocate for foster children, a partner at the law firm Wolf Haldenstein Adler Freeman & Herz and author of The New York Times' best-selling memoir, Etched in Sand. Calcaterra gave a deeply moving account of how she and her four siblings survived both an abusive childhood and a neglectful foster youth system that didn't always have her family's best interest at stake.
"I graduated high school and went off to college. I believed my teachers who made me believe in myself," she said.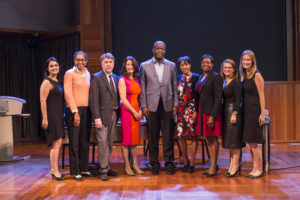 Calcaterra was joined by a distinguished panel including Sandy Banks, a journalist and former columnist for the Los Angeles Times whose award-winning writing covered foster care, law enforcement, homelessness and mental health. Banks said that while California is home to 20% of the nations' foster youth, "I would bet most people don't know any foster kids or don't think they know any foster kids."
Banks described how she came face to face with the bureaucratic challenges of the foster system years ago when she unsuccessfully tried to adopt her daughter's middle school friend who was living in a group home.
"I just keep thinking, if some small things had been different, if she'd been allowed to stay at that school, if she had access to mental health treatment, might her whole life have been different?," she said.
Banks called on the community to do more to support LA's foster youth.
"It's foster care and it's a big problem, but it's also thousands and thousands of children who have done nothing wrong and deserve much better than we give them," she said.
Also on the panel was Alex Johnson, Executive Director of the Children's Defense Fund-California. Johnson spoke about how schools can better reach foster youth by creating trauma resources, peer counseling and comfortable places for them to talk about issues they're experiencing. He also emphasized the importance of education in combating the high rates of homelessness and incarceration amongst the foster youth population.
"Educational equity is connected to juvenile justice. If a child can't read, there's more of a likelihood that [he or she] will go to the juvenile justice system," he said.
Sydney Kamlager-Dove, Vice-President and Chair of the Los Angeles Community College District (LACCD) Board of Trustees, noted that the board passed a resolution last year that created a position for a liaison at each college to help students identify housing resources.
"There's a three-legged stool and it's work, it's school and it's a place to stay. Because I'm a trustee, I think the school leg of three legged pillar is most important, but that's the thing that falls off immediately if the job or home is compromised," she said.
Lisa Salazar, Acting Chief for Mayor Garcetti's Office, explained the strategic focus of Los Angeles College Promise, a program that provides one year of free community college enrollment to students graduating from Los Angeles Unified School District and charter high schools. She explained that the goals of the endeavor include increasing enrollment, reducing the need for remediation, connecting students with support, and improving coordination across city departments to more effectively meet student needs.
The success of this program will "change the narrative that foster youth don't go to college," Salazar said.
Patrick Gardner, JD, President and Founder of Young Minds Advocacy, was also on the panel. His organization, a non-profit based in San Francisco, aims to help youths access mental health services and support. Gardner stressed the need for educators and healthcare providers to focus on a wraparound approach, working in concert with the foster care system to deliver services early and adequately, "before the trauma of multiple placements." When asked to suggest next steps, Gardner recommended supporting the work of California Youth Connection (CYC) and California Child Welfare Council.
"We're moving in the right direction but we have a long way to go," he said.
Watch our live facebook video HERE!