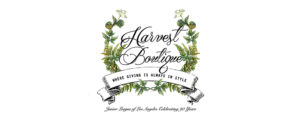 The Junior League of Los Angeles is hosting its 16th Annual Harvest Boutique fundraiser on Sunday, December 6, 2015 at the JW Marriott at LA Live. This year's event will feature a fun-filled day of shopping with over 50 unique boutique vendors, a silent auction, and opportunity drawing. In addition, the event will offer a delicious catered luncheon to honor our award recipients and a special celebration to recognize JLLA's 90th anniversary.
We are pleased to announce this year's Community Achievement Awardees, Luc and Stacia Robitaille, who are being honored for their incredible Los Angeles based organization, Echoes of Hope. Founded in 2007, Echoes of Hope strives to awaken the spirit of hope in the lives of at-risk and emancipated foster youth by providing the resources, knowledge, skills, love and support they need to reach their full potential. In addition to their work with Echoes of Hope, Luc and Stacia are active members of the Los Angeles community and committed to their family. Luc, a former NHL hockey player and NHL Hall of Fame inductee, currently serves as the LA Kings President of Business Operations. Stacia, who has spent her life following her passions of art, music, and helping those in need, currently balances her work with Echoes of Hope and is pursuing her dream as an artist and author. We are thrilled to honor Luc and Stacia at Harvest Boutique.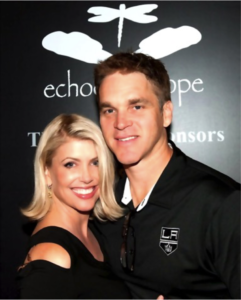 This year's Spirit of Voluntarism Awardee is Ellen Weitman, who is being honored in recognition for her years of service to the Junior League of Los Angeles and the community. Ellen, who joined JLLA in 1980, has held a number of leadership positions, including Chairman of the Ways and Means Committee, Community Director, SPAC Community Director, and Membership Director. Ellen continues to support the League through her numerous leadership roles as a Sustainer, including Sustaining Advisor, Sustaining Director, and Advisor to JLLA Past President Linda Small. Ellen credits the League with giving her the skills and confidence to achieve success in her professional life and affording her the courage to lead a multimillion dollar company. She compares serving in the League to getting a college-level education on how to make the world a better place. Outside of her League commitments, Ellen and her husband, Doug, have raised two sons and developed several successful businesses. JLLA is thankful for Ellen's dedication of service and is delighted to honor her this year.
This year's Harvest Boutique fundraiser promises to be a remarkable afternoon of shopping and friendship and a renewed commitment to our work in the Los Angeles community. The proceeds raised from Harvest Boutique will provide financial support for JLLA's mission of promoting voluntarism, developing the potential of women, and improving the community through our focus areas of family literacy and self-esteem and the empowerment of foster youth.
Tickets to Harvest Boutique are on sale now and can be purchased online at www.jlla.org or by calling Rainey House at 323-957-4280. In addition to the individual luncheon tickets that are available, we encourage you to consider our table sponsorship packages and become a member of our Host Committee. Please email this year's Harvest Boutique chair, Stephanie Sutherland, at harvestboutique@jlla.org with any questions about the event. We look forward to celebrating with you at Harvest Boutique!