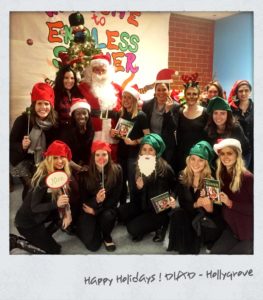 The Junior League of Los Angeles has a long history with Hollygrove, a children's mental health non-profit located just blocks from JLLA headquarters.  In 1998, JLLA established a project with Hollygrove called Camp Hollygrove.  At the time, Hollygrove was a residential facility, and approximately sixty children lived on campus.  Volunteers created a Saturday program for the children based on Hollygrove's values of respect, responsibility, caring, citizenship, fairness, learning, and trustworthiness.  Although the project has since ended, JLLA's relationship continues through the Done-in-a-Day program and provisional projects, including Kids in the Kitchen, and more recently, Thrive through Literacy.
In December, Done-in-Day held a holiday celebration in conjunction with Hollygrove's Parent Institute program.  Parent Institute is a unique parenting group provided at no cost for parents or caregivers and their children and is designed for all ages, ethnicities and educational backgrounds. Parent Institute provides support, parenting education, an encouraging environment to give feedback on service enhancement, and a safe place to celebrate successes and overcome struggles.
Over fifty caregivers and children attended the holiday celebration.  After dinner, a special guest, Santa Claus, read The Night Before Christmas to the children followed by hot cocoa and Santa pictures.  The families also decorated stockings and made holiday cards and ornaments.  The night ended with each family receiving a take-home goodie bag.  The event was a great way for families and volunteers to get into the holiday spirit.