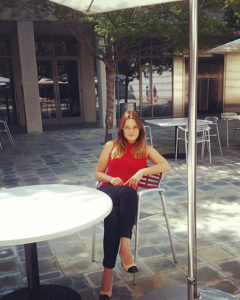 This year JLLA is sharing personal stories from our members about why they have joined, why they continue their membership and what being a member means to them. Thank you Sydney Johnson for sharing!
Several years ago I chaired an incubated project called College Admissions Program (CAP) where we partnered with different organizations around Los Angeles and worked with high school Juniors to help prepare them for college. We created a six session curriculum that was led by Junior League volunteers that included topics like "how to complete a college application", "where to find scholarships" and "what to expect when you get to college". We would work with a group of students and there would be several activities where we would break into even smaller groups so we were able to work one on one with many of the students. That year, we were working with Inglewood High School and students that were a part of their AVID program, which meant that the students self-identified as being interested in attending college after high school, and participated in after-school and weekend activities to help further this goal. At one of the sessions I was talking with a student about what he wanted to study in college and do for a career. He told me that he was interested in going to UCLA to study business, but that really he wanted to be a professional basketball player. He said that he loved playing basketball but also that he knew he was really smart and that he should go to college and get a degree. I asked him if he had family members that had gone to UCLA, and he said that he would be the first in his family to go to college and that his two older brothers hadn't finished high school because they had joined a gang in the area. He said that his brothers also wanted him to join the gang, and that were pressuring him to do it.
Later in that evening session, the same student let me know that his brothers had arrived early to walk him home, so he'd have to leave the session early. Wanting him to stay, we asked him to invite his brothers to come in and have some pizza and join us for the last half hour. They agreed, grabbed some food, and sat in the small group with their younger brother and listened as we all discussed how to choose a major and what your major really means (or doesn't) after you graduate. For me that was a really special moment, and made me recognize the strength, of a lot of the students we were working with, to pursue a college education when that path was not one that had been blazed by anyone in their family before them. This specific student knew that he wanted to not only graduate from high school, but that he also wanted to go to college, and would do whatever he needed to do to get there. And even though his brothers had chosen a different path and wanted him to pursue that same path, at the same time they were also supporting him in their own way. They might have come in for the free pizza, but they stayed so that they could be there for their brother. I felt really inspired by all of them and also really lucky to have been able to be a part of this student's journey and to be able to help him achieve that goal through the Junior League of Los Angeles.