#JLLASTORY SPOTLIGHT ON COURTNEY WELSH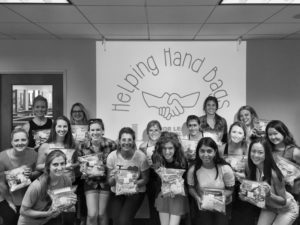 This year JLLA is sharing personal stories from our members about why they have joined, why they continue their membership and what being a member means to them. Thank you Courtney Welsh for sharing!
Joining Junior League in 2014 is honestly the best decision I've made since moving to LA. As a Bay Area native, JLLA has given me the opportunity to connect with and serve the community I now call home. In the process, I've met so many like-minded, intelligent, fun, caring, and giving women that remind me there's still a lot of good in this world. I somehow hit the JLLA jackpot with the placement on the Daybreak committee for the last year and a half. The women of Daybreak have taught me far more than I could hope to teach them. The kindness, humanity, and genuine support they show one another is inspiring. I feel lucky to help add a little "sparkle" to their week. And let me not forget the incredible training opportunities that the league provides. My experience in Leadership Development Institute last year was truly TRANSFORMATIONAL. I believe I am literally a different person, a better person, and one hell of a leader as a result, both professionally and within the league.