#JLLASTORY SPOTLIGHT ON KARUNA DEWANS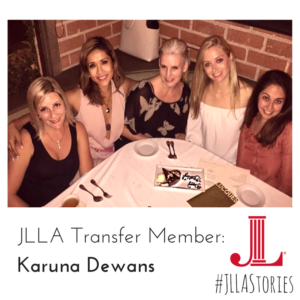 I moved to Los Angeles 18 months ago and I didn't know anyone.  One of the first things I did when I arrived in Los Angeles was to register with the Junior League of Los Angeles. Prior to my move,  I had been a member of the Junior League of Memphis. Since I had met some of my best friends in Memphis though the Junior League,  I thought what better way to make some new friends and get to know my new town than by connecting with JLLA.
18 months later I can say, without a doubt that the women I met in my JLLA transfer group are my closest friends in LA. Together we have explored the city, volunteered, tried new activities and built lasting friendships.  Our transfer group was led by Cheryl Lacsina, who transferred herself a few years ago from New York.  Cheryl is a great connector of people.  She brought our group together seamlessly.  We shared our different experiences in league chapters across the country.  She worked tirelessly to arrange at least one "explore LA" event and one JLLA- related event each month.
Nearly every weekend I see at least one or two of the women from my transfer group.  Some of my favorite activities with the group have been: trying out new restaurants, exploring the Magic Castle, auction item preparation for the Harvest Boutique, and our weekend getaway to Catalina Island. The women I've met here are the biggest reason that I continue to return to the JLLA. Thanks to JLLA,  I've found a sense of community in what can otherwise be a vast and daunting metropolis.
If you have any questions about transferring to JLLA check out our transfer page HERE. The deadline to join the Spring 2017 transfer class is December 31st.