PREVIOUS DISTINGUISHED SPEAKERS
The Legacy Leadership Circle (LLC) Distinguished Speakers Series Presents: Charlotte Clymer
Date: Tuesday, September 14, 2021
Time: 6:30 p.m.
Location: Virtual Meeting
The Junior League of Los Angeles Legacy Leadership Circle welcomed Charlotte Clymer, the keynote speaker at the September General Meeting for the LLC Distinguished Speakers Series.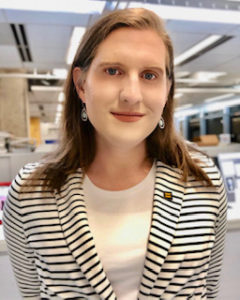 On September 14, 2021, Charlotte spoke to JLLA members about how to be an effective ally, how to show up as a genuine advocate, leading change and inclusive feminism, how to be a better volunteer, and how to respectfully interact with and advocate for LGBTIQIA+ youth.
Charlotte Clymer is a writer, LGBTQ activist, communications consultant, and military veteran.
She was most recently the Press Secretary for Rapid Response at the Human Rights Campaign, the nation's largest civil rights organization dedicated to advancing lesbian, gay, bisexual, transgender, and queer (LGBTQ) equality. Her day-to-day work involved running the organization's messaging in response to the White House and federal policy.
Her commentary has been quoted by the New York Times, the Washington Post, and numerous other publications. Her work has been published in USA Today, The Washington Post, NBC News, Cosmopolitan, Glamour, GQ, The Independent, and others. She has also been a guest commentator on MSNBC and CBS Sunday Morning.
She serves on the D.C. Commission for Persons with Disabilities, the Board of Directors for the Center for Law and Military Policy, the Military and Veterans Advisory Council for Modern Military Families of America and the Advisory Councils for Running Start and the Lone Star Parity Project, organizations working toward gender parity in elected office. She is a member of the Truman National Security Project's Class of 2019.
She was named to the 2020 Forbes 40 under 40 list in the "Politics & Government" category and the 2019 40 under 40 Queer Women of D.C. by the Mayor's Office and The Washington Blade.
She is a graduate of Georgetown University and resides in Washington, D.C.