PREVIOUS DISTINGUISHED SPEAKERS
2022 Legacy Leadership Circle (LLC) Distinguished Speakers Series: Blaire G. Hervey
Date: Tuesday, January 11, 2022
Location: Virtual Meeting
The Junior League of Los Angeles welcomed Blaire G. Hervey, the keynote speaker at the January General Meeting for the LLC Distinguished Speakers Series.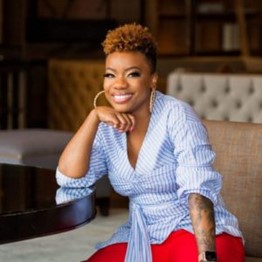 On January 11, 2022, Blaire spoke to JLLA members about creating an inclusive culture within the League, increasing productivity with inclusion and diversity, as well as intersectionality.
Blaire is "The Corporate Strategist," a magnetic Sales Enablement Leader, DEIB (Diversity, Equity, Inclusion, Belonging) expert, corporate leadership motivational speaker, social activist, tech equity advocate, and host of a new podcast, Corporate Girls Radio. She's an inspirational maverick, making her mark with start-ups and tech giants experiencing rapid growth. Although, her true passion lies in innovation for Black women; guiding them to strategically get pay they deserve, to navigate the complexities of corporate spaces, and to become change agents in their communities. She amplifies this passion through her work as the Co-Founder for The Visionary Squad. Blaire also serves on the Junior League of Portland's Board as the Membership Director and was proud to be honored as the Volunteer of the Month, July 2020, and most recently as the Volunteer of the Year, 2020.