#TBT TO JLLA'S FIRST CHILDREN'S BUREAU SESSION OF THE NEW YEAR!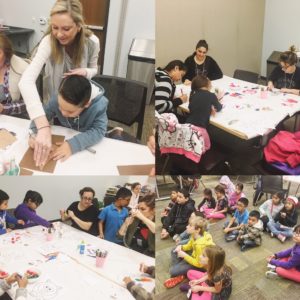 This past weekend JLLA members held their first Children's Bureau session of the New Year! Thank you to everyone who participated! We're looking forward to more amazing and engaging sessions!
The Children's Bureau first started in 1904 as a volunteer group which successfully advocated for legislation to protect children.  In 2008, Children's Bureau opened its new Magnolia Place Family Center, which serves as a bases for the Magnolia Place Community Initiative. This Initiative represents a revolutionary solution to ending child abuse by focusing on preventing the deep social ills that plague many of our communities such as crime, school failure, alcohol/drug abuse, homelessness, unemployment, etc.
The JLLA "Building Literacy One Family at a Time" program aims to increase literacy among 5-8 year olds and their families. The project embraces the Magnolia Place Community Initiative family values by (1) providing a fun educational values-based curriculum, including reading and hands-on activities, to the children and their families and (2) incorporating the parents/families into the learning process. The program's goals are to improve the children's literacy skills, help them learn more about themselves and their families, and to increase reading confidence in a group, at school and at home. Last year we also provided a book shelf for the families filled with books in English and Spanish donated by our members.
Learn more about our projects HERE!