Ice Cream Social with Wanderlust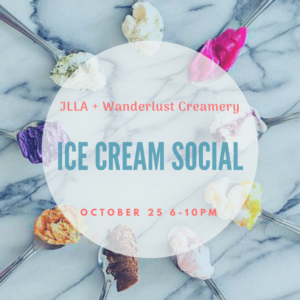 Did you ever think you could make a difference just by eating ice cream? Please join the JLLA at Wanderlust Creamery's 3 locations for an ice cream social. Wanderlust Creamery is know for it's specialty ice cream inspired by traveling the world. Try their exotic flavors like Sticky Rice & Mango, Earl Grey or Ube Malted Crunch. Through their artisanal ice cream you will find a destination in every scoop.
This event is open to anyone who comes to Wanderlust so please bring your friends & family. We'll be there from 6-10pm – come find us at all 3 locations and grab a voucher, so that the 20% gets donated back to JLLA!