VINTAGE JLLA COOKBOOK CHRONICLES: SUNSHINE CAKE
Hello, Junior Leaguers!
Last Junior League year, the Publications Committee came across fabulous recipes of yesteryear and thought it would be fun to try a few select recipes and share the results! Today, we are working with Sunshine Cake.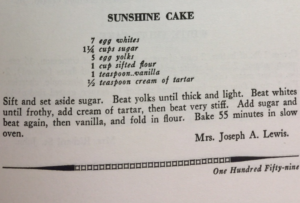 Despite the charming recipe name, the recipe itself produced a bit of internal anxiety.  Why was the recipe so short? What is a "slow oven"? If there are no pictures, how will I know if the dish was truly prepared the way Mrs. Joseph A. Lewis intended it to be?
The Sunshine Cake was a loaf of cheery, dense goodness with a taste and consistency closest to a pound cake.  Ever the accessory lover, I decided to dress my slice with a simple strawberry reduction and a dash of lemon juice. Aesthetically, it wasn't the most pleasing thing to look at (this will get better, I promise!), but the zing of fresh lemon and the warm sweetness of the strawberries were a tasty combination with the dense cake.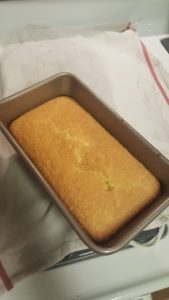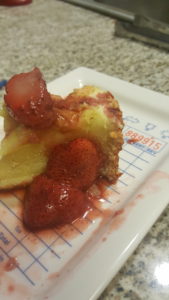 I'd like to encourage You to approach this "sunshine cake" as an opportunity to learn something new, to create and inspire, to put your "stamp" on a classic.  May the outputs of your approach yield equally sweet results!
About the Author
Timasha Woods is a first-year active and vintage lover who believes we must learn from the past to create a prosperous future for self and community. When she's not working on the day's human resources challenges, she can generally be found in her car on the 101, impatiently sitting in traffic with the rest of the Valley.