#WCW SPOTLIGHT ON ALLYSON PRITCHETT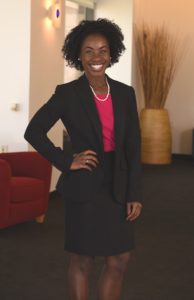 This year JLLA is sharing personal stories from our members about why they have joined, why they continue their membership and what being a member means to them. Thank you Allyson Pritchett for sharing!
Hi! I'm Allyson Pritchett and I've been a member of the Junior League for 8 years (Wow that sounds long! ? ) I originally joined the NYJL in New York City as a Provisional and later transferred to the Junior League of Dallas following a work transfer to Texas. After a sabbatical in business school, I joined the Junior League of Los Angeles (the best league!!) two years ago when I moved out to the West Coast.
I'm in my second year as a member of the Done-In-A-Day (DIAD) Committee and help with the planning / coordination / execution of our DIAD events each year here in Los Angeles.
Volunteering with non-profit partners in my local community was a big reason why I joined the league years ago. Through DIAD, I get to work with many incredible non-profit partners here in L.A. and help mobilize our "Army of Dynamic Women" to create positive impact in our community alongside our partners. Getting the chance to do that again and again throughout the year was what led me to the DIAD role.
Before the Junior League, I volunteered randomly with no particular focus. I signed up for the league years ago because I wanted to be purposeful with my activism and direct my time and financial support to one organization that I could believe in. With the Junior League's focus on developing women leaders and creating a powerful support infrastructure for local non-profits and public policy improvement, I knew this was the organization for me. And that belief in this organization has only grown stronger as I've seen leagues across the country! So blessed to be a Junior Leaguer and to volunteer and labor alongside the best women in the City of Los Angeles!