"Women in Leadership" Panelists Offer JLLA Members Life, Career Lessons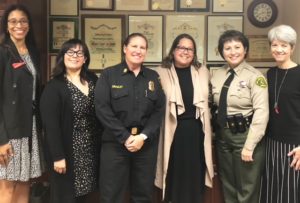 What does it take to succeed in a male-dominated field? Members of the Junior League of Los Angeles' (JLLA) found out in a "Women in Leadership" panel featuring Deputy Chief Kristin Crowley of the Los Angeles Fire Department and Chief Maria R. Gutierrez of the Los Angeles County Sheriff's Department in a panel that was held at Rainey House in March. Both women shared their insights during the event, which was hosted by JLLA's State Public Affairs Committee (CalSPAC).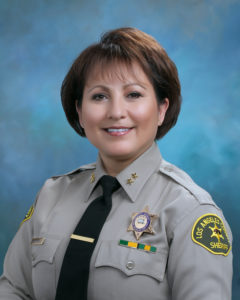 In a panel discussion moderated by JLLA Sustaining Member Beth Quillen Thomas, both women described their paths to the top.
Chief Gutierrez began her career in 1984 as a Level 1 Reserve Officer for the West Covina Police Department. In 1991, she accepted a position with the Los Angeles County Sheriff's Department and  in 2016 she was promoted to the rank of Chief and assumed the command of the Department's Court Services Division. She oversees a division of over 1,900 personnel and administers a court security contract at over $158 million. As the Division Chief, she is responsible for providing court security to the largest court system in the nation and also ensuring that over 1,500 inmates daily are transported to court from County jails and participating police departments.
Her best career advice?
"Just work hard, be good to people and you will see those door open," she said.
Chief Gutierrez admitted, though, that working in a male-dominated profession such as hers isn't always easy. "Sometimes I'll sit in a room full of men and I have to pretend to be confident," she said. "I'll be nervous but I don't want them to know it."
In terms of promotions, "you don't have to wait for someone to say you're ready. It's nice but in a male-dominated place you won't always get that," she said.
Deputy Chief Kristin Crowley has over 22 years of experience dedicated to public safety. She's been promoted through the ranks of the Los Angeles Fire Department as a firefighter, paramedic, engineer, Fire Inspector, Captain I, Captain II, Battalion Chief and Assistant Chief.  She made history in June 2017 when she was selected as the first female fire marshal of the Los Angeles Fire Department.
Deputy Chief Crowley attributes her success to being motivated and bold.
"You go and work those busiest, toughest assignments so no one can question you," she said. "You do really well and then you say, 'What's next?'"
Both women emphasized the importance of being your authentic self in the workplace.
"When you try to fake it people see right through it," Deputy Chief Crowley said. "Be who you are. I'm not one of the guys so I never tried to be one of the guys."
Not that the road to success was always a smooth one. Deputy Chief Crowley recalled a painful moment in her career when, during a review of her fire station, a superior officer made a disparaging remark about female firefighters. She confronted him and pointed out that his remark was inappropriate.
"I was really thoughtful about it. I took a deep breathe, didn't overreact, didn't cry," she said.
Her career motivation comes from a desire to "get to the point where you just want to be known as a good firefighter. Not a good female firefighter, but a good firefighter," she said.
But just as important as hard work is to success, she said, to experience happiness you also need to know when to leave it all behind you. At the end of her work day,  her mind isn't on emails but on spending time with her three children: "Every day I ask my kids, 'tell me about something you did today that was kind. Who did you help today?,'" she says.
—Johanna Arias-Bhatia & Stephanie Cajigal