Braving the Storm with Tori Murden Mcclure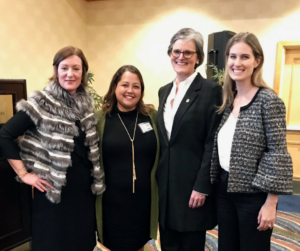 The Junior League of Los Angeles (JLLA) kicked off 2018 with an inspiring talk from Tori Murden McClure, the first woman and the first American to row solo across the Atlantic Ocean. She is also the first woman and first American to ski to the geographic South Pole.
Murden McClure's speech was part of JLLA's Distinguished Speaker Series, a program initiated this year that is generously supported by JLLA's Legacy Leadership Circle.
Murden McClure began by asking JLLA members to choose our own adventure: We could hear her "carefully scripted speech," or we could do a session of Q&A. Not so adventurous, we were split between the two options. Murden McClure obliged both sides of the house by answering questions while weaving in stories of her incredible adventures. She told us about how she was caught in hurricanes and capsized whilst on her mission. She explained that much of her tenacity came from a desire to help others, starting with her brother, who was born with a developmental disability and who she fiercely defended from taunting neighborhood children.
"If I was just a little quicker, a little stronger, a little faster, I could stop bad things from happening to people I care about," she said.
Murden McClure, president of Spalding University in Louisville, Kentucky, has served as a chaplain at Boston City Hospital, as an executive director of a shelter for homeless women and as a public policy analyst for the Mayor of Louisville. She holds a Bachelor of Arts from Smith College, a Master of Divinity from Harvard University and a Juris Doctorate from the University of Louisville's Louis D. Brandeis School of Law.
Murden McClure shared with us what went into another big adventure: trying to capture her experiences in a book. It was a multi-year process that involved a lot of conflicting advice from various well-meaning writing teachers, but it taught Murden McClure how to solidify her writing voice.  Her book, A Pearl in the Storm: How I Found My Heart in the Middle of the Ocean, was published by Harper-Collins in 2009.
We also learned the surprising way Murden McClure realized she wanted to be with her then boyfriend for the rest of her life. If you weren't there you'll have to pick up a copy of the book and figure out what led her to that conclusion!
These are just some of wonderfully funny gems Murden McClure shared with us:
As leaders, we must not hold back. We should boldly 'take the best seat' at the table, and be ready to contribute.
Regarding the shedding of familiar tropes we face as women: We (women) can find freedom at any age, we just have to lose the script.
Regarding influence: If a carrot isn't big enough, use a stick.
When facing challenges, remember, roadblocks are blocked roads.
Treat others with dignity. Don't treat others small.
It is never too late to have a happy childhood.
Don't burn bridges. Loosen the bolts a little each day.
—Timasha Woods