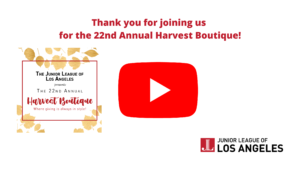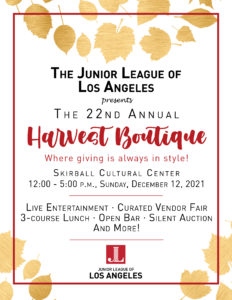 The Junior League of Los Angeles (JLLA) is pleased to invite you to be a part of our 22nd Annual Harvest Boutique: Where Giving is Always in Style!
The boutique will be held on Sunday, December 12, 2021, at the Skirball Cultural Center.
The Boutique offers a day of shopping featuring unique vendors, a silent auction, and a 3-course luncheon celebrating our award recipients and community partners:
Rachel S. Moore
President and CEO
The Music Center Los Angeles–our city's premier performing arts center
Gregory Boyle
Founder of Homeboy Industries in Los Angeles, the largest gang-intervention, rehabilitation, and re-entry program in the world
The Harvest Boutique raises the much-needed funds to move JLLA's mission and community programs forward and impact the lives of women and children in our Los Angeles community.
Tickets are available for purchase here. We look forward to seeing you there!
EVENT SCHEDULE
Please note this event is held in Pacific Time
12:00 p.m.            Registration opens and cocktails/hors d'oeuvres begin,                                    VIP access to Vendor Boutique opens
1:00 p.m.               Lunch and program begins, Vendor Boutique opens to all                                 attendees
4:00 p.m.              Silent auction ends
5:00 p.m.              Event ends
VENDORS
In-Person Vendors:
April Hobbs Fine Art
April Blooms
Art Couture Dominique
Borrowed Bling
Gourmet Blends
Jardesca
Lain Snow
LAHive
On Board Organic Skincare
Bella Leigh
Sseko Designs
Mom on the Run Children's Toys
Kendra Scott
Giovanni's Tiramisu
Victor Peter
Homeboy Industries
Fox & Prince Studio
J & S Make Scents
Virtual Vendors:
Borrowed Bling
Jardesca
Lain Snow
LAHive
On Board Organic Skincare
Giovanni's Tiramisu
The Classy Bag Lady
Persia Dona Jewelry
31st State
CEO Intimates
Hive and Home
Lynn & Liana
Parrish LA
Sit in the City
Inflorescence
Purchase tickets for the 2021 Harvest Boutique here.
Interested in being a vendor? Please click here.
Other questions? Contact Harvest Boutique: rjoymalzahn@gmail.com
PLEASE NOTE: All in-person attendees must present proof of vaccination or a negative COVID-19 test result within 72 hours prior to the event. Skirball Cultural Center will check guests' proof of vaccination / COVID-19 test results prior to entering its premises. Skirball Cultural Center also requires that all attendees wear face masks while indoors during the event, unless one is eating or drinking.