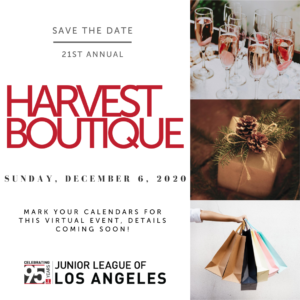 You're Invited: JLLA's 21st Annual Harvest Boutique
As the Junior League of Los Angeles celebrates our 95th anniversary, we are excited to announce that our 21st annual Harvest Boutique will be held on Sunday, December 6th, 2020. This virtual event will include our much anticipated Sip & Shop, silent auction, opportunity drawings, live programming, & more!
Tickets
Keep an eye out for updates on tickets which will be available for purchase the 1st week of November.
Vendors
Do you have a business or website that you'd like to showcase at our virtual Harvest Boutique? Please contact Harvest Boutique Committee Associate Chair, Arpy Cherkezian or harvestboutiquemerchant@jlla.org
Here are some details for vendor Participation:
One time set up fee of $75 paid by the vendor.
Members will shop on vendor website, using an Event Code at check-out. The code can be used throughout the duration of 2 weeks.
Event Code generates 10% off to the shopper, and a 15% donation from the brand back to JLLA on all sales generated from the event during the 2 week period.
For any questions, please reach out to Arpy Cherkezian or to the Harvest Boutique Co-Chairs Amy Mathias & Latoya Vickers at harvestboutique@jlla.org.
DONATE TO THE SILENT AUCTION!
Would you or your company like to donate to the silent auction at Harvest Boutique? We are now accepting donations through the October 15 deadline!
On our Auction Wish List:
Once-in-a-lifetime items or experiences
Excellent bottles of wine
Sports and entertainment memorabilia
Gift certificates and baskets
To donate, please contact Vivienne Miller.
For every $40 in value, members can earn 1 Development Hour.
For any other Harvest Boutique questions, please reach out to Co-Chairs Amy Mathias & Latoya Vickers at harvestboutique@jlla.org.
Thank you to everyone who joined our 2019 Emerald Anniversary Celebration of Harvest Boutique! We were thrilled with the success of this event which had 700 attendees and raised $60K+ at the Montage Beverly Hills.