Social and Special Events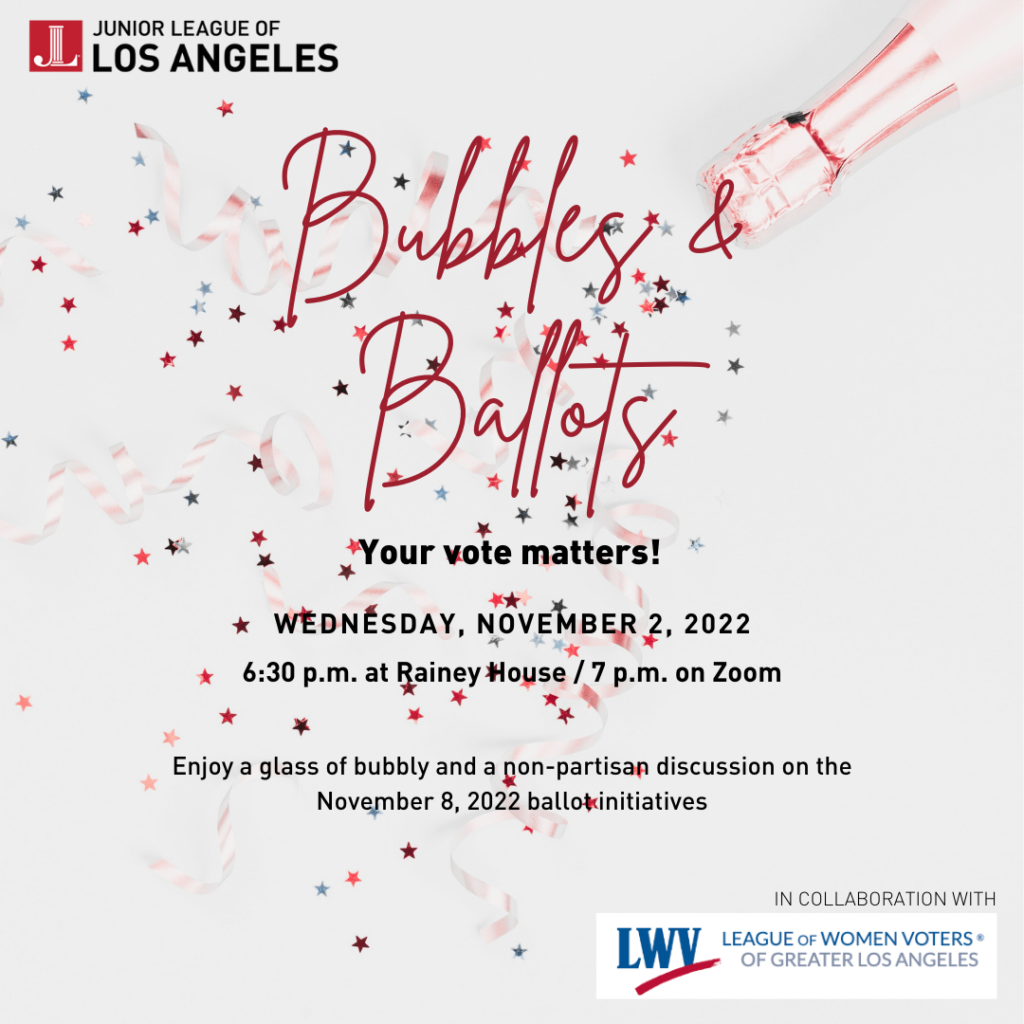 Please join the Junior League of Los Angeles in this informative non-partisan presentation of California's 2022 State Propositions with the Greater Los Angeles League of Women Voters! Former President and current Board Member of the LWV Renee Chanon and author of Ms. Magazine will be going over the 7 state propositions on the November 8th ballot covering:
The purpose of the proposition

How the proposition got on the ballot

Who the proposition supporters and opponents are and their arguments

The public impact of the proposition 

Questions asked by attendees
The League of Women Voters is a non-partisan political organization that encourages informed and active participation in government. It helps shape public policy through education and advocacy. The League of Women Voters never supports or opposes any political party or candidate. The League of Women Voters of Greater Los Angeles (LWVLA) is a local League that performs two separate and distinct roles – Voters Service/Citizen Education and Action/Advocacy. 
Grab your Official Voter Information Guide, raise your glass of bubbly, and join us virtually for an evening of election education training! This event is free to the public.
Members – sign-up on Digital Cheetah!
Non-members – click here to Register!
For any questions, please contact Michelle Amado at michelle.m.amado@gmail.com
Past Events
Thank you for joining us for our past events: Cocktails for a Cause at CityClub LA, JLLA Oktoberfest, Ghouls Night In Virtual Painting Party, Vive La France Wine Tasting, Summer Skin Refresh, Fall Fashion Give & Get, Dine to Donate, Galentine's Week: Yoga, Flower Arranging, and Wine and Charcuterie Pairing, and Legendary Bingo at Hamburger Mary's!