Social and Special Events
Join JLLA members for fun activities around Los Angeles and help raise money for our various projects! Our Social and Special Events are great ways to get to know our community and our members!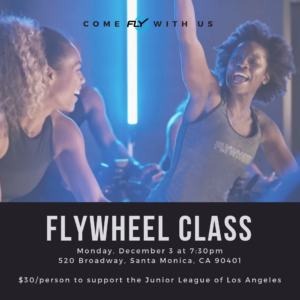 Come fly with us at a Flywheel charity spin class! Flywheel fuses high intensity interval training with performance-tracking metrics for an effective, efficient, intensely fun ride that's guaranteed to test your limits. This class will only be open to JLLA members and their guests, so grab some friends and get your workout on! The class is Monday, December 3rd at 7:30pm at Flywheel Santa Monica. Buy your tickets here!
We hope to see you at our upcoming events:
January 17th – Legendary Bingo at Hamburger Mary's West Hollywood
February 21st – Bar Method class at Bar Method Marina del Ray