Distinguished Speakers Series
The Legacy Leadership Circle (LLC) Distinguished Speakers Series Presents: Liz Fosslien & Mollie West Duffy
Date: Tuesday, January 10, 2023
Time: 6:30 p.m.
Location: Virtual Meeting
The Junior League of Los Angeles welcomed Liz Fosslien & Mollie West Duffy, the keynote speaker at the January General Membership Meeting for the Distinguished Speakers Series sponsored by the Legacy Leadership Circle (LLC).
On January 10, 2023, Liz & Mollie spoke to JLLA members about creating an inclusive culture within the League, increasing productivity with inclusion and belonging, and being ok when you are not ok.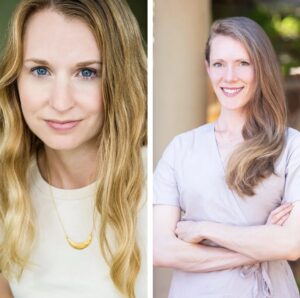 Liz Fosslien is the co-author and illustrator of the Wall Street Journal bestseller No Hard Feelings: The Secret Power of Embracing Emotions at Work and an expert on how to make work better. As the head of content at Humu, she uses behavioral science to help Fortune 500 leaders make the small changes that lead to profound improvement. Prior to Humu, Liz was the Creative Director at Parliament, an executive learning and development company, and an analyst at the economic consulting firm Analysis Group. TED, Harvard Business Review, The New York Times, The Economist, The Financial Times, and NPR have featured her work.
Mollie West Duffy is the co-author of the WSJ bestseller No Hard Feelings: The Secret Power of Embracing Emotion at Work, and Big Feelings: How To Be Okay When Things Are Not Okay (April 2022).   She was previously an Organizational Design Lead at global innovation firm IDEO, and a research associate for the Dean of Harvard Business School. She has worked with companies of all sizes to develop good workplace culture. Her writing has been featured in Harvard Business Review, Fast Company, Quartz, and Entrepreneur, and she's taught design courses at Stanford and USC.
Click here to view our previous speaker, Blaire Harvey.