2026 marks Junior League of Los Angeles's 100th year of service in the city. Over the last century, the League has trained thousands of women to become effective volunteers, leaders, advocates and catalysts for lasting community change.
Community Improvement Projects
The Centennial Committee is researching a large scale Community Improvement Project to commemorate the League's long-lasting impact on our community.
We are excited to announce our partnership with Los Angeles Recreation and Parks to help renovate Augustus Hawkins Nature Park! This will be a 2-day event and we need our members to help volunteer. Members will receive 6 community service hours for participating. Non-members are welcome too!
Register here for Sunday, November 13th, from 9am-2pm
Register here Saturday, November 19th, from 9am-2pm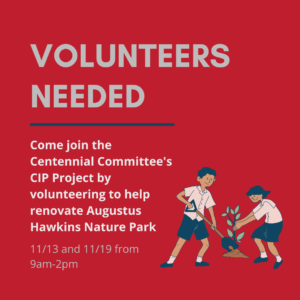 Special Events
The Centennial Committee will be planning several special events throughout the year leading up to the big Centennial celebration. Check back here for the latest info on the next event!
Centennial Giving Campaign
We need your support in order to plan the biggest Centennial celebration! Check back here for more info on how to donate to our campaign.