DECEMBER: NATIONAL WRITE A FRIEND MONTH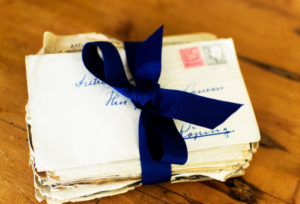 December is a month of joy.  There's a chill in the air from the East Coast to the West Coast and even down South.  Spirits are higher.  People are kinder.  There are cookies to be baked.  Hot chocolate to be warmed.  Holiday decorations to be hung.  And a New Year to usher in.
In a month full of hustle and bustle, December is also a time to be thankful.  It's an opportunity to continue family traditions, bring joy to another person's face, and, hey, if you're like me: the chance to wave goodbye to a crazy 2016.
In preparation for the celebration of all of our traditional holidays, don't forget that December is also National "Write a Friend" month.  Yes that is a real thing and, yes, you should celebrate it.  With texting and social media, it's becoming easier to detach from the real world, so this is a chance to reconnect in a non-traditional way.  Go ahead and treat yourself to the stationery that you've been eyeing or break out some supplies and have a crafting session.  Turn on some holiday music (Destiny's Child's 8 Days of Christmas is my go-to) and get to writing.
In honor of giving thanks, I'll kick off National Write a Friend Month.  Here's my open letter to all of you:
Dear fellow JLLA members,
Thank you.  Thank you for sharing your individual talents with all of us.  Thank you for taking time away from your families to help mold Los Angeles into a better place for all of us to live.  Thank you for your dedication to children and improving access to education in our communities.  Your dedication does not go unnoticed.  Running from a full time job, to a committee meeting, and then home to take care of your spouses and children is not easy.  But I've never seen any of you break a sweat while doing.  That is admirable!  Thank you for showing some of us newer members that we to can do it all.
Thank you and may 2017 be the best year yet for all of us!
– Brittney Banks