HARVEST BOUTIQUE A FAMILY AFFAIR!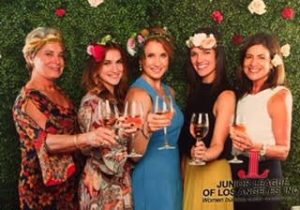 By Caroline Craig
I faced a dilemma: Harvest Boutique, my favorite JLLA event, fell on the same weekend as my in-laws' visit from Alabama. I knew I only had one option: combine them! And I am sure glad I did. The day was filled with rosé, flower crowns and shopping, where we bought Christmas gifts for each other and ourselves. The vendors in attendance were particularly superb, providing excellent hosting gifts like a tropical palm tote from India Hicks and turquoise earrings from Kendra Scott.   While we came for the champagne and shopping, the best part about the day was celebrating the wonderful accomplishments of JLLA, the incredible superwomen honorees, and sharing the message of women empowerment fostered by the Junior League with all the ladies in my family.  While everyone I brought had heard of Junior League through their local branches in Birmingham and Newport Beach, they didn't know about our far-reaching network of women working to improve our immediate communities as well as striving to impact legislation. You couldn't help but feel inspired by Daryn M. Horton, the Spirt of Voluntarism Honoree, both through her vast individual accomplishments in education and her work with JLLA. Jeanne Pritzker, the Community Achievement Honoree, provided insights into foster youth and their transition out of the system, an incredibly important cause that often slips under the radar. Her speech and inclusion of two foster youths, inspired a discussion at our lunch table about perseverance, the human will, and the incredible difference a group can have on another's life.
Being able to share this event and my involvement in JLLA with my in-laws was a great way to bond on a deeper level, beyond the rosé and shopping, and experience the power and inspiration felt in any room filled with the amazing ladies of Junior League.