JLLA DAYBREAK BOOKSHELF DEDICATION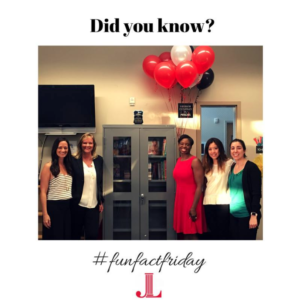 Last Friday the Junior League of Los Angeles donated a bookshelf to one of our current projects, Daybreak. Daybreak is in association with OPCC and Lamp, who JLLA has been working with for the past fourteen years. Daybreak is the only program on the westside of Los Angeles designed for homeless women suffering from long-term debilitating mental illness'. The program provides a safe and accepting environment where they can find dignity, support, and access to information and resources needed to stabilize their lives before moving into permanent housing. JLLA has partnered with Daybreak to create a "Women Empowerment" program. JLLA members focus on ways to inspire and motivate the women to succeed in their personal lives by teaching life skills and tools that foster confidence and inspire change.
The idea for a bookshelf came up through conversations about how JLLA could continue our impact. Daybreak mentioned that books and DVD's connected to women's empowerment and self help would be very beneficial to the women in their program. With some funding from JLLA's Helping Handbag project drive we were able to purchase the bookshelf and a starter collection of books, DVD's and board games. Each resource corresponds with a session from last year's Women Empowerment program such as budgeting, memory and focus and nutrition.
Jeanette Woodburn, a JLLA member and currently one of the co-chairs for Daybreak said "Co-chairing the project has been an incredible privilege, to be part of the broad and far-reaching work that OPCC does on a macro-scale while getting to know the Daybreak clients on an individual level and seeing firsthand the incredible transformation these women undergo. It's a great reminder that even if we have nothing else to give, our attention and acknowledgement can go a long way for someone in need."
Our Daybreak committee is always looking for new books, DVD's, board games etc. to add to the bookshelf. They are asking for gently used or new resources that center around self help, skill building and inspirational stories. Crafts are also a wonderful donation to Daybreak. Many of the women enjoy learning how to knit, crochet etc. If you are interested in donating please contact Dawn Eash eash.dawn@gmail.com.
Thank you to all of members who helped to make this bookshelf a reality for Daybreak!