JLLA Honors Teresa Grady Weeden with Spirit of Voluntarism Award
The Junior League of Los Angeles (JLLA) is proud to announce that Teresa Grady Weeden is the 2023 recipient of the Spirit of Voluntarism Award. This award acknowledges and honors its sustaining members who embody the mission of the League, demonstrate a sustained interest in volunteer service, and inspire other members to use their skills in the community.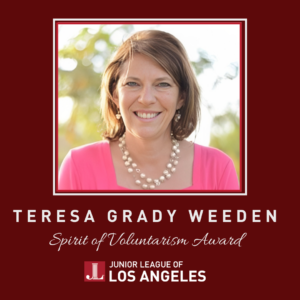 Teresa, often affectionately known as "Terrie," has displayed an unwavering commitment to JLLA over the years, as well as her work with the Burbank Chapter of the National Charity League, Guide Dogs of America, and as a Girl Scout troop leader. The award will be presented during JLLA's Harvest Boutique event on December 3 at the Skirball Center.
"Terrie's dedicated service to JLLA since joining when she relocated to Southern California marked the beginning of her remarkable journey, exemplifying the community volunteer leadership we aspire for all our members to achieve," said Katherine La Spada, JLLA President. "She embodies the spirit of voluntarism and the Junior League's mission, demonstrating how one person's commitment can create a ripple effect of positive change in our community."
"I am deeply honored to receive this award, and I accept it with immense gratitude. It's a testament to the incredible work and support of the Junior League of Los Angeles and the remarkable people and causes I've had the privilege to be part of in our communities. This recognition inspires me to continue my journey of service and empowerment, knowing that even small efforts can make a big difference in our community," Teresa Weeden said.
Since joining JLLA, Terrie has consistently showcased her commitment to leadership and community engagement. She served as JLLA President in 2007-2008, held multiple positions on the organization's Board of Directors, and served as the JLLA delegate to the statewide California State Public Affairs Committee (CalSPAC).
Terrie holds a special place in her heart for her two-year term as the JLLA delegate to CalSPAC, where she gained a deeper understanding of public affairs and learned the policy process through the exceptional Junior League training. This journey transformed her into an informed and engaged advocate for policy issues affecting women and children and the community projects of the 17 Junior Leagues represented by CalSPAC. She harnessed her JLLA training and gained knowledge to collaborate with other California Junior Leagues, influencing public policies related to the focus areas of CalSPAC.
Terrie has shared her JLLA leadership training and experience to impact other nonprofits. She served as a K-12 Girl Scout troop leader in Greater Los Angeles, supported their annual cookie sales and leading the Girl Scout program and mission to build girls of courage, confidence, and character to make the world a better place. She played a pivotal role in the Burbank Chapter of the National Charity League, Inc. (NCL). During her nine years of NCL membership, she served as Chapter President and on the Board of Directors as Chapter Parliamentarian, creating essential policies and procedures and as Philanthropy VP collaborating with the chapter's 31 community partners to effect volunteer impact.
Furthermore, Terrie and her family were active participants in the Guide Dogs of America, Inc. (GDA) puppy-raiser program. They raised Delaney, now a working guide dog in Las Vegas, and Elana, a now beloved family pet. The Weedens also served as the host family for Wetzel, who contributed to GDA's mission by supporting her three litters of future guide dogs, which includes five working guide dogs currently in service.
Terrie's commitment to service seamlessly integrates with her professional journey in accounting and finance. She began her career in public accounting as an auditor in Chicago after earning her bachelor's degree in accounting from Indiana University, Kelly School of Business. It was her role in the corporate management audit department at The Walt Disney Company that brought her to Los Angeles, where she also happened to meet her husband, Fred, who shared her Indiana roots.
Over the years, Terrie continued to excel in her finance career, working with Universal Music Group and later Deloitte as a strategic finance leader, specializing in mergers and acquisition consulting.
Terrie and Fred call Burbank their home, where they reside with their retired GDA dogs. Their family includes Julia, their eldest daughter, who is a senior at Purdue University, and Meredith, their youngest, who is currently a freshman at the University of Illinois, Champaign-Urbana. With Fred hailing from northwest Indiana and Terrie from Indianapolis, the family often jokes about holding 'dual citizenship' in both Indiana and California. Fortunately, this geographic spread allows both daughters to remain close to extended family while in college.
Her advice to JLLA members embarking on their volunteer journeys: "Embrace the JLLA trainings, actively seek out mentors, and remain open to new opportunities wherever you can find them. These experiences will prove invaluable throughout your journey, benefitting not only the Junior League but every future organization you choose to support," Teresa said. To the young members of the Girl Scout and National Charity League communities, she encourages them to continue their commitment to volunteer leadership by joining their local Junior League as they progress in their professional careers for lifelong friendships, mentorship, and training.
About JLLA
JLLA is committed to advancing women's leadership for meaningful community impact through volunteer action, collaboration, and training. JLLA focuses on self-esteem/empowerment, food insecurity, and homelessness among transition-aged foster youth. Additionally, the League works on enhancing educational opportunities, workforce development, and access to mental health resources for underserved students. Their collaborative community programs include life skill workshops such as financial literacy, enriching experiences to promote self-care and belonging, community improvement projects to rehab physical spaces, and a variety of donation drives to fill critical needs for our partners.
Since 1925, the Junior League of Los Angeles has cultivated 150 long-term partnerships with community organizations and contributes over 60,000 volunteer hours annually to the community.
About Harvest Boutique
The Junior League of Los Angeles's Harvest Boutique is an annual fundraising event hosted by the organization. During the Harvest Boutique, attendees typically have the chance to shop for unique and artisanal goods, crafts, and gifts from a variety of vendors, followed by lunch and an awards presentation. The funds raised from this event support JLLA's programs and projects, including educational programs, workshops, and resources for foster youth and underserved communities.
For more information about the Junior League of Los Angeles and to purchase tickets or sponsorships for this year's Harvest Boutique, click HERE.