JLLA MEMBERS CONTRIBUTE MORE SERVICE HOURS TO OUR COMMUNITY THIS YEAR THAN LAST YEAR THROUGH DONE IN A DAY OPPORTUNITIES!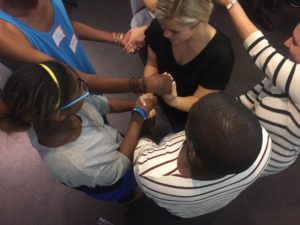 The DIAD Committee has a goal of 30 DIADs this year! This is an increase of 10 activities compared to last year. So far we have planned and executed 14 DIADs this fall and plan to execute around 15 for spring.
DIADs are held at various locations in the Los Angeles area.  Done in a Day (DIAD) provides volunteer service hours to our JLLA members in a one day, three hour time frame. The DIAD committee focus areas are literacy, self-esteem, and empowerment. DIAD researches, coordinates, and manages the successful execution of diverse community activities. Some previous activities have included literacy fairs dedicated to early childhood reading, vision boards, leadership camp, university prep, and workforce prep. DIAD enjoys working with various community partners with a focus on children and foster youth.
Typically each DIAD can facilitate anywhere from 10 to 40 JLLA volunteers depending on the activity. Provisional DIADs can be as large as 150 or so. With some community partners we like to work more one on one whereas with others we have more participation in groups.
Junior League of Los Angeles volunteers have completed approximately 1500 service hours this fall.
The DIAD committee works very hard to put together meaningful and successful events that enrich our community. The DIAD committee has done a fabulous job at executing 14 DIADs, almost all with original programming. We have not only rekindled some previous community relationships, but also partnered up with 2-3 new community partners this fall. We are continuing the momentum this spring with an additional 3 new partners.