JLLA Recognizes Actress and Philanthropist Jen Lilley with the Community Achievement Award
October 20, 2023, Los Angeles — The Junior League of Los Angeles (JLLA) is delighted to announce that the accomplished actress, singer, and philanthropist Jen Lilley will receive the esteemed Community Achievement Award at the Annual Harvest Boutique Fundraiser on December 3, 2023 at the Skirball Center.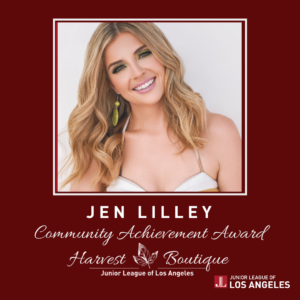 Jen Lilley, known for her remarkable performances on both the silver and small screens, including roles in the Academy Award-winning film 'THE ARTIST,' NBC's iconic daytime series 'Days of Our Lives,' and ABC's 'General Hospital,' is not only an entertainment luminary but also an ardent philanthropist. With her versatility as a beloved leading lady on the Hallmark and Great American Family Channel, she has captured the hearts of viewers far and wide.
As a symbol of our commitment to empowering communities, the Junior League of Los Angeles is proud to honor Jen Lilley for her extraordinary career and unwavering dedication to philanthropy.
"Jen Lilley embodies the spirit of charitable giving," praised Katherine La Spada, JLLA President. "Her commitment to supporting foster youth and former foster youth nationwide aligns seamlessly with JLLA's passion for addressing the challenges faced by over 30,000 children in the Los Angeles County foster care system. These challenges include educational disparities, housing instability, and the need for essential life skills."
Katherine La Spada continued: "Jen shares our mission to empower these children and young adults for a brighter future, as demonstrated by her admirable practice of donating 100% of her music profits to the Tulsa Girls Home, providing crucial care and support to teenage girls in foster care. This cause deeply resonates with her, as she herself is a foster and adoptive mother to two children from Southern California's foster care system. Her actions speak volumes, and we are honored to recognize her for her exceptional contributions."
Jen Lilley's visionary leadership extends beyond her support for foster youth. She co-founded 'Christmas is Not Canceled, Inc.,' a charitable initiative that unites brands, celebrities, and compassionate individuals in the noble cause of uplifting children and families facing crisis while offering participants the opportunity to win extraordinary prizes.
In addition to her work with foster youth causes, Lilley serves as a celebrity ambassador for organizations such as Childhelp, Project Orphans, Olive Crest, The Dave Thomas Foundation, The Thirst Project, and The Los Angeles Mission. She also sits on the boards of The Tulsa Girls Home and the Inter-Agency Council on Child Abuse and Neglect (ICAN).
JLLA is committed to advancing women's leadership for meaningful community impact through volunteer action, collaboration, and training. JLLA focuses on self-esteem/empowerment, food insecurity, and homelessness among transition-aged foster youth. Additionally, the League works on enhancing educational opportunities, workforce development, and access to mental health resources for underserved students. Their collaborative community programs include life skill workshops such as financial literacy, enriching experiences to promote self-care and belonging, community improvement projects to rehab physical spaces, and a variety of donation drives to fill critical needs for our partners.
Since 1925, the Junior League of Los Angeles has cultivated 150 long-term partnerships with community organizations and contributes over 60,000 volunteer hours annually to the community.
The Junior League of Los Angeles's Harvest Boutique is an annual fundraising event hosted by the organization. During the Harvest Boutique, attendees typically have the chance to shop for unique and artisanal goods, crafts, and gifts from a variety of vendors, followed by lunch and an awards presentation. The funds raised from this event support JLLA's programs and projects, including educational programs, workshops, and resources for foster youth and underserved communities.
For more information about the Junior League of Los Angeles and to purchase tickets or sponsorships for this year's Harvest Boutique, please visit: https://one.bidpal.net/harvestboutique23.