JLLA SEPTEMBER GENERAL MEETING RECAP!
We had 305 attendees at our first General Meeting!
THANK YOU TO ALL WHO ATTENDED!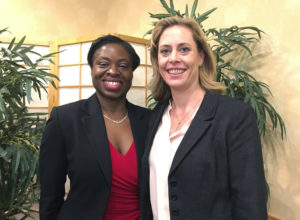 PRESIDENTS WELCOME
Ness Okonkwo delivered the President's Message to begin the meeting, where she welcomed all of the new members and highlighted the Board Of Directors' goals and plans for the upcoming year. She discussed member engagement and connection, and also refocusing our community outreach.
---
Keynote Presentation: Find Your Why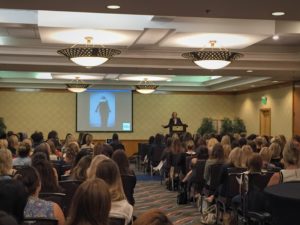 Tenaya Wallace worked in the non-profit sector for 15 years creating impactful cause-based campaigns. After leaving the non-profit space, to work in the for-profit world, she found passion and a purpose in employee engagement and created the Find the Why program to connect people to the meaning behind their work. Tenaya brought this strategy and idea to JLLA and spoke about how JLLA members can find their own why and how best to incorporate it into the #whyJLLA campaign. She shared her own personal story of her battle with cancer and spoke about the importance of using storytelling to engage people in the work of the organization. Members worked on their own personal whys as well as what they plan to commit to this year.
Please continue to share your why on social media and use the hashtag #whyJLLA.
If you would like to share your personal JLLA story, please email it to jllastories@jlla.org.
---
Announcements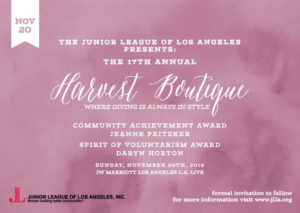 HARVEST BOUTIQUE
Harvest Boutique is Sunday, November 20, 2016 at the JW Marriot at LA Live! For more information and to purchase tickets, click here. If you're interested in being a part of the Harvest Boutique Host Committee, purchase your table sponsorship by September 30th to be included in the invitation.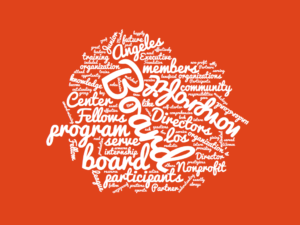 BOARD FELLOWS
Board Fellows is accepting applications until September 30th. If you are an Active or Sustaining Member interested in being trained to be a productive and effective member of a non-profit organization's Board of Directors, apply today!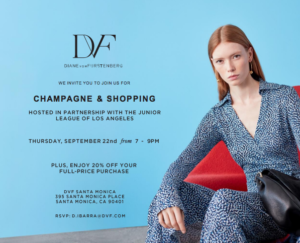 CHAMPAGNE AND SHOPPING WITH DVF
Social & Special Events hosted an evening of shopping and champagne with at DVF in Santa Monica.

PUBLIC POLICY INSTITUTE
Public Policy Institute kicks off this fall with five class sessions, a policy discussion salon, optional field trips to JLLA's Day at City Hall, and Junior Leagues' Day at the Capitol in Sacramento. Join us for PPI's first session "Introduction to Advocacy" on September 21st!
MEMBERSHIP STRATEGY TEAM
MST has been working hard to develop a strategy to make sure that the League is delivering what its members want and expect from their membership. The committee spent the summer analyzing what is and isn't working for the members, and is currently reaching out to other Leagues and organizations to learn what they are doing.
PROJECT RESEARCH & DEVELOPMENT
PR&D would like your help in identifying community partners where League members are employed or have strong connections! If you would like to submit an introduction, please email Lauren Semeniuta.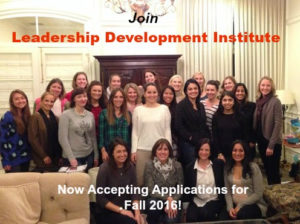 LEADERSHIP DEVELOPMENT INSTITUTE
LDI was accepting applications from active members until September 16th. To learn more about LDI, click here.
COMMUNITY LEADERSHIP FORUM
Each year the Junior League of Los Angeles brings together members of the community to focus on an issue impacting Los Angeles through its Community Leadership Forum. This year's topic is The Psychology of the Streets – Why Education is the Answer, and will address the challenges that foster youths face with respect to higher education. The event will be held on Friday, December 2nd at the Los Angeles Public Library. Mark your calendars!
---
Member Recognition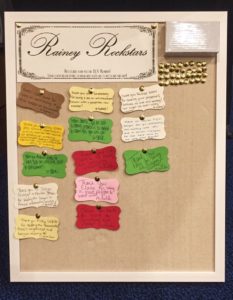 We now have a Member Recognition Board! Use the Rainey Rockstars Board to acknowledge and thank your fellow League Members for anything big or small! We'll be highlighting members weekly throughout the year on social media, and at each General Meeting we'll choose a name at random to be our GMM Rainey Rockstar!
THE SEPTEMBER GMM RAINEY ROCKSTAR IS MAIRE CAMILLE EVANS!!
"Maire Camille, you are such a caring person and I'm so grateful to share this year with you!" – Elaina Graham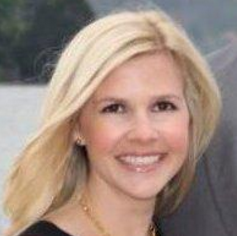 ---
NEXT MEETING
MONDAY, October 10th, 2016 at the Doubletree Hotel in Santa Monica.
Project Drive: Helping Handbags benefitting Daybreak (receive 1 community service hour for every $40 worth of items donated. We will provide a wish list of items we are looking for, including men and women's Hanes underwear.)
WE VALUE YOUR INPUT!
Did you attend the GMM? Have ideas on improvements, speakers or topics? Please contact General Meetings Chair Tiffany Blevins.
SEAT SHEET ARCHIVE
View the seat sheets & speaker handouts from the meeting here.