LARCHMONT DAY OUT CELEBRATES FALL, FRIENDS AND PHILANTHROPY!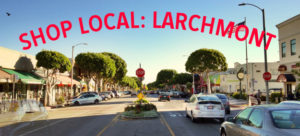 This year, in celebration of a Fall, friends and philanthropy, JLLA is hosting its first ever Larchmont Day Out on October 17! Following the tradition of many years of supporting the Larchmont Boulevard community, JLLA has moved the event to a late afternoon, early evening event on a Saturday to allow more League members, partners, friends and community members enjoy the fun.This year's event will feature live entertainment, a beer & wine garden (must be 21 to enter), exciting opportunity drawings, and promotions from local Larchmont stores.
Last year's event raised over $2,000 and we hope to raise the fun and FUNdraising bar yet again this year. The Social & Special Events committee encourages everyone to bring friends, family (including the little ones!) for a day of fun in support of our special projects partners. The event will be from 4:00- 7:00 PM. Tickets for Beer & Wine garden are $20 (21+ with photo ID). General admission is Free.